As promised another awesome giveaway coming! But before anything else let me announce to you the lucky winners of Zamboanga Bloggers Collab Giveaway! Congratulations! Kindly email your name, complete address and contact number at lalalapatricia@yahoo.com. Thank you!

Today is actually the eve of the Fiesta Hermosa which is celebrated on the 12th and
since i'm celebrating my 1st bloggersary next month, along with Kai Grafia as she and her boyfriend celebrated their anniversary last Monday

,
my friend Bunch, the owner of SweetSky Cake Confections celebrates her pastry business anniversary this month
and a number of wonderful brands collaborated AGAIN to give you a major, huge, gigantic giveaway!!
!
We
want you to celebrate it with us! So, we decided to treat you all of these goodies!
Welcome to...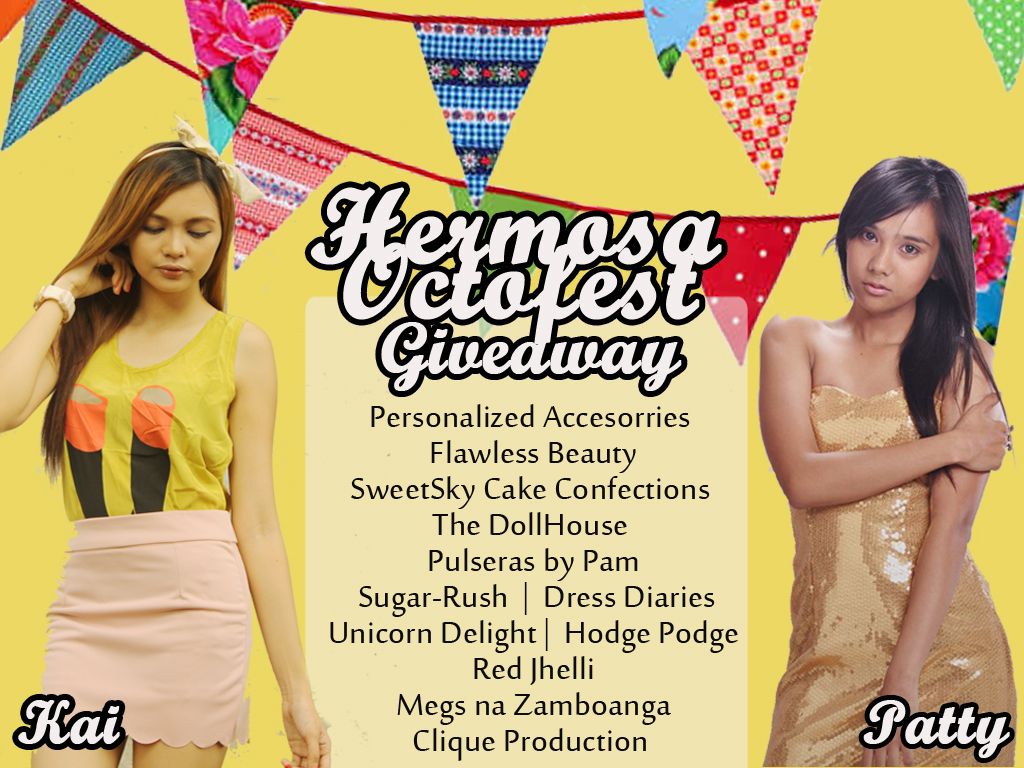 ♥
Hermosa Octofest Giveaway "A Fiesta of Prizes"
♥
And when we say a "fiesta" of prizes, we really, really MEAN it! For this particular giveaway there will be

eleven (11) winners

of different sets coming from different brands - excited much? Here are the prizes you can win!
That's it! Hope you like it!
Giveaway is open to *
Philippine Residents ONLY*.
Don't forget to wish your luck 'cause
i
t will
end in exactly one month on
November 11, 2012 - 11:11pm.
Of course,
Entrants must do all the mandatory tasks.
Failure to do so will forfeit your chance of winning a set of prize. Goodluck and enjoy! xo, lalala

♥
All prizes will be sent directly to the winners shortly after their names are announced. Please make sure to enter your complete name and address to ensure your receipt of the prizes, okay? And also, we'll be sending out emails, so please check your emails by the end date of the giveaway! We are strict about this.